アメリカや日本・韓国などで人気のアーティスト2人による、ゆるさと危険さを秘めた展覧会!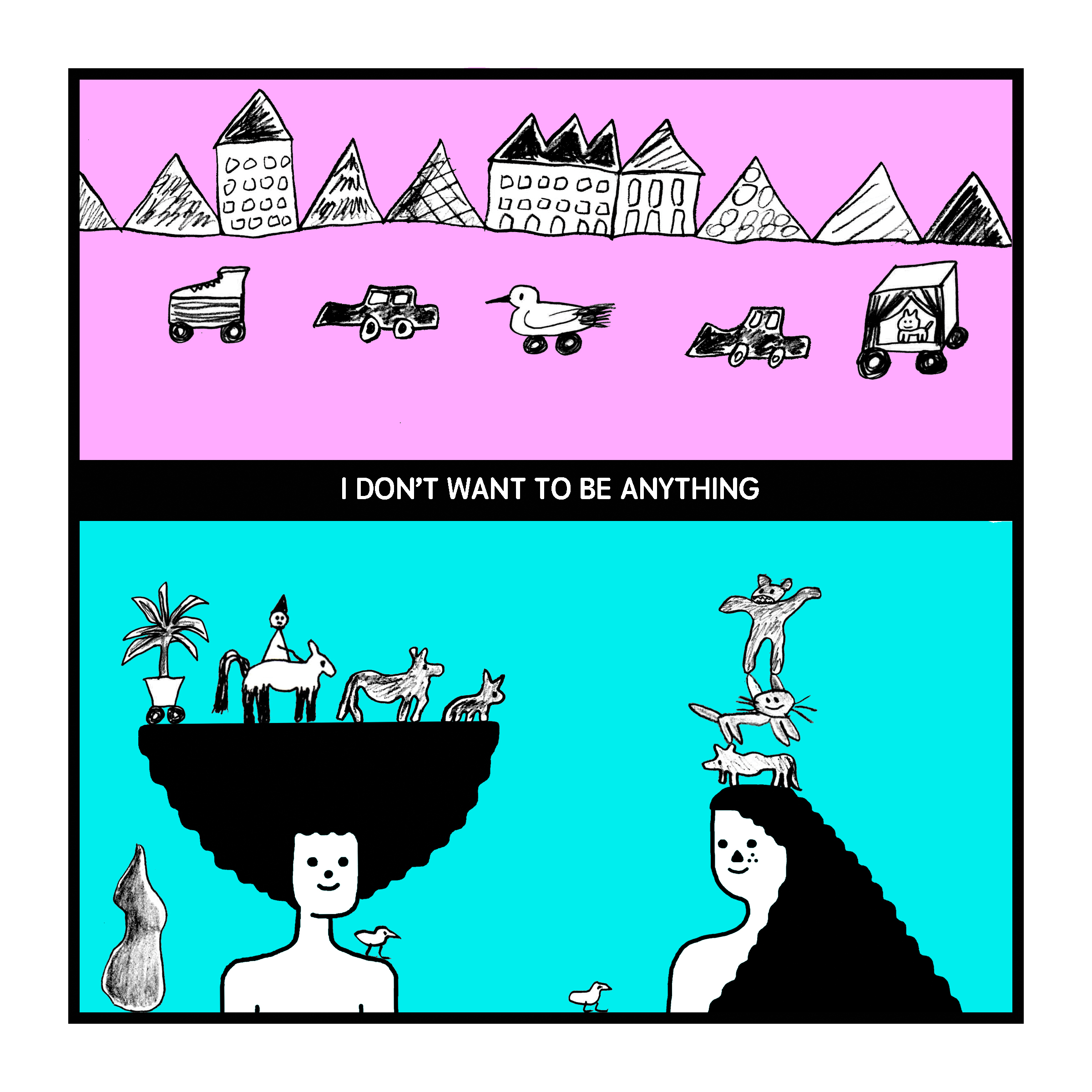 エレベーターティース&さいとう よしみ 2人展
I don't want to be anything
2016年9月17日(土)〜10月2(日)
木金 16:00〜21:00/土日 12:00〜19:00/月〜水 休み(最終日18時終了)
会場:WISH LESS gallery  (東京都北区田端5-12-10)
WISH LESS galleryでは、アメリカや日本・韓国などで人気のアーティスト、エレベーターティースと、狂ったゆるキャラで表現する日本人イラストレーター、 さいとう よしみ の二人展「I don't want to be anything」を開催いたします。
エレベーターティースとはジャスティンという名のデザイナーが手掛ける架空のブランドであり、その一環でロゴやキャラクターをデザインし、パッチなどのグッズとして発表しています。幼少時代からアニメやゲーム、サンリオなどに影響されたユニークな表情のキャラクターたちは、インスタグラムで火がつき、世界中で多くのファンから愛されています。
さいとう よしみは、他者には決して真似できない独自の感性を持ち、子供のように自由な発想でゆるキャラを次々に誕生させています。彼女の放つキワどい世界観は思わずクレイジー!と叫びたくなるほどです。ゆるさと危険さを秘めた二人による展覧会にぜひご期待ください。
PROFILE
エレベーターティース
カルフォルニア在住のアーティスト&アートブランド。
イラストレーション、音楽、フォトグラフィなど多岐に渡り活躍中。過去にはニューヨーク、ロサンゼルス、サンディエゴ、テキサス、ベルギーなどで作品を発表。今後は日本や韓国などを視野に入れて活動の幅を広げたい。
アーティストウェブサイト:elevatorteeth.com
さいとう よしみ
東京を拠点に活動中。2011年 セツ・モードセミナー卒業。アクリル、水彩、コラージュやそれらを混ぜ合わせて、絵を制作している。最近は陶芸作品も鋭意制作中。
アーティストウェブサイト:yoshimisaito.6.ql.bz
–
WISH LESS gallery is delighted to announce the ELEVATOR TEETH and YOSHIMI SAITO exhibition 'I don't want to be anything'.
ELEVATOR TEETH is the fictional brand of the artist Justin. He designs logos and characters and creates his own products using those characters often as patches. His work is influenced by anime, video games and the brand 'Sanrio' that he has been obsessed with since he was young. Now he has a huge following around the world on Instagram.
YOSHIMI SAITO is an illustrator who produces work that has a unique and inimitable sensitivity, creating a world of charming characters with her free spirited attitude. Her work walks the thin line between craziness and cuteness.
Please come and enjoy their bizarre and mesmerizing art in this exhibition!
PROFILE
ELEVATOR TEETH
California based artist & art-brand.
Illustration, Music, Photography.
Recent Exhibitions:
"I FEEL SO REAL" at Project 108. Seoul, South Korea, 2016
"MUUSIC VIDEOO" at Group Partner Space. New York, NY, 2016
"POSTER SHOW" at Kornel in Antwerp, Belgium, 2015
"HARDCORE AMBIENT" at GYM STANDARD. San Diego, Ca, 2015
Artist website:elevatorteeth.com
YOSHIMI SAITO
Tokyo based artist.
Graduated from Setsu mode seminar, Tokyo in 2011.
Paintings and drawings with acrylic paint, watercolor, collage and mix of them.
Making ceramics recently.
Please feel free to contact me.
Solo Exhibition
"weird morning", at kinkan gallery, Tokyo, 2016
"Today's Dinner", at cafe gallery maruchan, Tokyo, 2015
"She may", at cafe+gallery Shibafu, Tokyo, 2013
Artist website:yoshimisaito.6.ql.bz
Instagram: yosomisight
---
エレベーターティース&サイトウヨシミ 2人展「I don't want to be anything」
会 期:2016年9月17日(土)~10月2日(日) 最終日18時終了
時 間:木金 16:00-21:00/土日 12:00-19:00/月〜水 休廊
会 場:WISH LESS gallery
住 所 : 〒114-0014 東京都北区田端5-12-10
電 話 : 03-5809-0696
メール:info@wish-less.com
ELEVATOR TEETH + YOSHIMI SAITO exhibition 'I don't want to be anything'
Period : Saturday September 17th – Sunday October 2nd 2016
※ We will close at 6pm on the last day.
Opening hours : Thu+Fri 16:00-21:00/Sat+Sun 12:00-19:00
Closed : Mon-Wed
Address : WISH LESS gallery 5-12-10 Tabata Kita-ku Tokyo 114-0014
Tel : +81-3-5809-0696
Email : info@wish-less.com
---