東京やニューヨークなど各地で個展を行ってきた期待の作家による展覧会。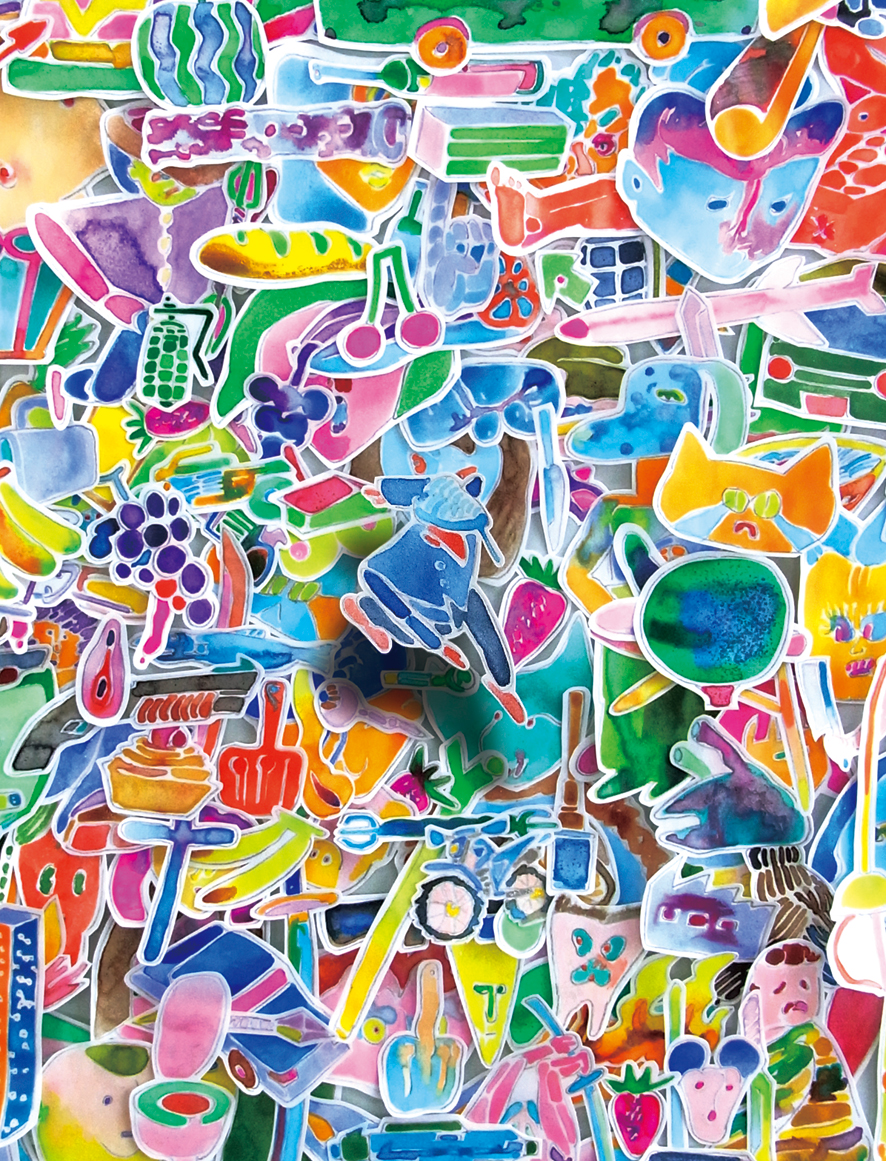 小川泰 個展「エレメンツ」
2016年4月30日(土) 〜 5月22日(日)
水木金 16:00〜21:00/土日 12:00〜19:00/月火 休み(最終日18時終了)
会場:WISH LESS gallery  (
東京都北区田端5-12-10
)
▶︎オープニングレセプション:4月30日(土) 18:00〜20:00
※ゴールデンウィーク期間中も同営業時間です
WISH LESS gallery では、ドローイングを細かにカットし作品を構成するアーティスト、小川泰の個展を開催いたします。
小川は平面の二次元性による三次元での可能性を探っています。
彼にとってドローイングとは記録および記憶であり、日常の出来事やこれまでの経験、他人から聞いた話や根拠のない噂話にネットの情報、昔見た映画や読んだ本、または勝手な想像などから連想される事をモチーフにし、それを描き作りだすことによって具現化する作業だと語ります。それを切り抜いたり折り曲げたり自立させたり立体物に描いたりする事で平面の境界線を越えようと試みてきた結果、それは絵画なのかイラストなのかアートなのか、そういった境界線に興味を抱き始めました。
2013年の夏に事故により死を予感する大怪我に見舞われた彼は、その答えを画面の外に求めるのではなく画面の中に求めるようになりました。
ドローイングを解体、分解し再構築する事によって小川の作品は作らます。それは拡張するのではなく画面の中に"絵画"として収束しようとしています。
カットアウトされたドローイングの要素=elementsは、画面の中で交ざりあい、重なりあって、新たな命を与えられた物へと生まれ変わります。それはまるで小川が体験した死からの甦りを表してるかの様でもあります。
本展では、画面を構成する要素で制作された作品 "elements" を発表いたします。
さらにグッズ類も豊富にご紹介いたします。
二次元の平面による三次元での可能性を探る注目の作家、小川泰による展覧会をぜひご期待ください。
WISH LESS gallery is delighted to present Tai Ogawa's solo exhibition "elements".
Tai Ogawa has been exploring the possibility of three-dimensional expression with a two-dimensional line.
He believes that drawing is a way to document his memories. His daily experiences, rumors, films, books and his own fantasies are the ideas that feed his unique visual language.
During his creative process, he investigates ways to overcome the limitations of the two-dimensional line, this investigation has lead him to question what drawings, illustrations and art are.
Since he had a brush with death in the summer of 2013, he began to seek the answers inside of the picture not outside of it.
The picture is built-up by making drawings that are reconstructed and decomposed. Instead of expansion, he tries to converge the elements within the picture.
Individual drawings are cut into pieces and mixed with each other. These elements are reborn with new lives. A process triggered by his near death experience.
In this exhibition, we are exhibiting work that Ogawa produced using these reborn and remixed 'elements'.
Also some original products by the artist will be available.
Don't miss this chance to explore Tai Ogawa's world.
PROFILE
Ogawa Tai/小川 泰
1981年茨城県出身。 武蔵野美術大学大学院油絵コース修了。 過去には東京・Zenshiやgaleria de muerte、ニューヨークで個展を開催し話題に。 独自の着眼点で平面の二次元性による三次元での可能性を探る。ドローイングをカットアウトし組み合せて構成するユニークな作品を発表する。
オフィシャルサイト:www.ogawa-tai.com
1981 Born in IBARAKI, JAPAN
2006 M.A., Musashino Art University, Tokyo
Lives and works in Tokyo, Japan
Solo Show
2014  Ege of Life, Kai matsumiya, New York
2014  Urban_Legend, galeria de muerte, Tokyo
2012  Reconstruction;dimension, Motus Fort, Tokyo
2008 The End of the World and Mother-Fucker, ZENSHI, Tokyo
2006 The Memory of Gravel, Thought of Rock-, Bankart NYK, Yokohama
2006 Inner Muscle, GAROU GAROU, Yokohama
Group Show
2016  Foundation Barbin Presents:Redeux (Sort of), Kai Matsumiya Gallery, NewYork
2015  5018creative project, TRAS ART TOKYO, Tokyo
2014  Apresentando, galeria virgilio, Sao Paulo
2013  THE NUMBER OF THE BEAST, galeria de muerte, Tokyo
2012  Nuclear Summer, galeria de muerte, Tokyo
Happy Haiku ,ferenbalm-gurbru station, Karlsruhe, German
2011  No One in Particlar,Except…, Motus Fort, Tokyo
NAND Gardening, NAND, Osaka
JapanCongp, Le Magasin, Grenoble, France
Kamehameha, ferenbalm-gurbru station, Karlsruhe, German
2010 Refrain, zenshi, Tokyo
Lucky Fortune, zenshi, Tokyo
2009 Pulp Fictions-Papierarbeiten, ferenbalm-gurbru station, Karlsruhe, German
Sunny Side ZENSHI '09, zenshi, Tokyo
ToraryProject Toma-Run, Osaka
Thorn Eye, MOTUS FORT, Tokyo
In Battle There Is No Law, galeria de muerte, Tokyo
Shan-de-ring Drowing Exhibitions, Kodaimarubuilding, Osaka
2008 Death by Basel, Fredric Snitzer Gallery, Miami, U.S.A.
Spectral Analysis, MOTUS FORT, Tokyo
Arbeit macht frei , Cafe in Mito, Mito, Ibaraki
CHOCOLATS DES FUCHU, LOOPHOLE, Tokyo
Chasing for the Cobalt Blue, ZENSHI, Tokyo
2007 Heyri Asia Project II Japanese Contemporary Art Festival, Heyri, Korea
Untitled -paper-, ZENSHI, Tokyohttp://www.ogawa-tai.com/
---
小川泰 個展「エレメンツ」
会 期:2016年4月30日(土) 〜 5月22日(日) 最終日18時終了
時 間:水木金 16:00-21:00/土日 12:00-19:00/月火 休廊
会 場:WISH LESS gallery
住 所 : 〒114-0014  東京都北区田端5-12-10
電 話 : 03-5809-0696
メール:info@wish-less.com
Tai Ogawa solo exhibition "elements"
Period : Saturday April 30th – Sunday May 22nd 2016
※ We will close at 6pm on the last day.
Opening hours : Wed-Fri 16:00-21:00/Sat+Sun 12:00-19:00
Closed : Mon+Tue
Address : WISH LESS gallery 5-12-10 Tabata Kita-ku Tokyo 114-0014
Tel : +81-3-5809-0696
Email : info@wish-less.com