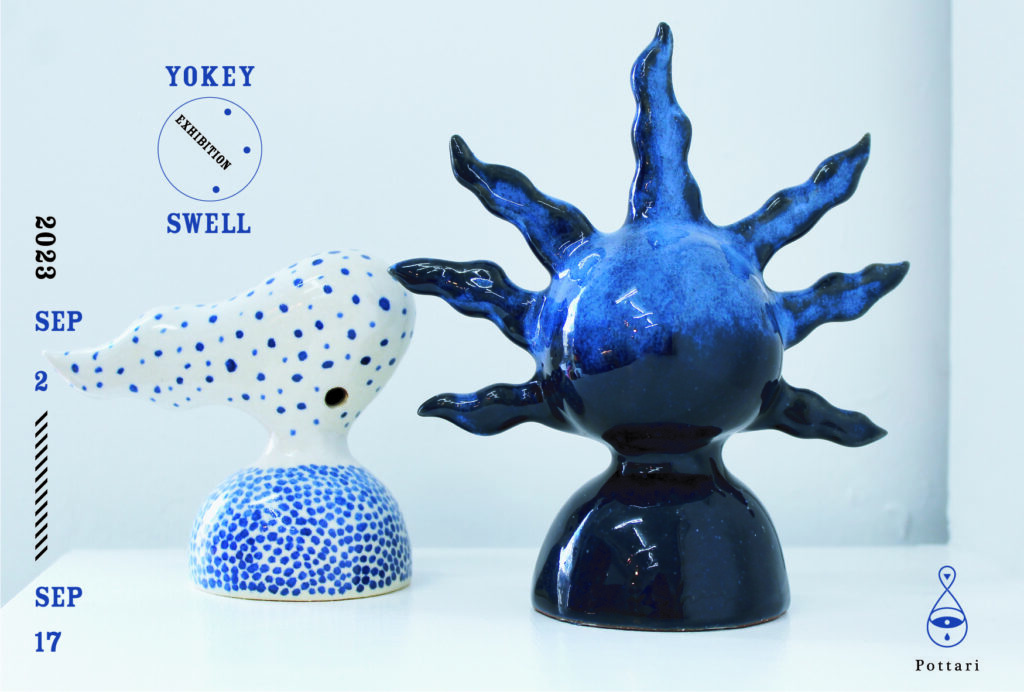 YOKEY 個展「SWELL」
2023年9月2日(土)〜 17日(日)
会場:Pottari gallery(MAP)
WISH LESSのオーナー永井洋子 @yokey_yokey が初の個展を白金の @pottari.tokyo にて9/2土より開催いたします。
陶芸を本格的に始めてから作りためて来たものや新作を引っ提げて皆様に披露いたします。
皆様のお越しをお待ち申し上げております。
[ 展示へ向けて ]
誰しもが持つ肉体的/精神的コンプレックスを写し出したYOKEYの陶芸作品は、大きなお尻やボツボツの肌など、アンバランスな人それぞれの個性を躍動感あふれる造形美で表しています。
土を練り、積み上げ、カタチを作り上げる行為は、生命の再生といった秘密の儀式に通じるものがあり、YOKEYが創り出す立体作品は、土偶のような愛らしさを持つ反面、峻厳さを放つ現代の女神にも喩えられ、常に私たちを見守ってくれます。
大らかで独創的な美学を陶器から感じ取っていただければ幸いです。
[ プロフィール ]
YOKEY(永井洋子) 
2017年より本格的に陶芸を学ぶ。 犬や女性をモチーフにした作品を制作。 
概念にとらわれない自由で可愛らしいフォルムには、遊び心と愛情が落とし込まれている。
WISH LESS galleryのオーナー。 
instagram:@yokey_yokey

---

Yoko Nagai, owner of WISH LESS gallery is delighted to announce her first solo exhibition of her ceramic work @pottari.tokyo from Saturday 2 – Sunday 17 September.
YOKEY's ceramic works are about  the physical and mental complexes that we all have. They express the unbalanced individuality of each person, such as large hips and problem skin in a dynamic and beautifully sculpted form.
The act of kneading, building and shaping clay is akin to a secret ritual of rebirth and the three-dimensional works created by YOKEY have the charm of clay figurines, but also the majesty of a modern goddess, always watching over us.
Please come and experience the spontaneity and original aesthetics of her ceramics.
YOKEY (Yoko Nagai) studied ceramics in earnest since 2017. Produces works with motifs of dogs and women.  Her free and cute forms, which are not bound by concepts, are infused with playfulness and love. Owner of WISH LESS gallery in Tokyo.
instagram:@yokey_yokey
---
Pottari gallery
Address.
〒108-0071 東京都港区白金台3-18-15
3-18-15 Shirokanedai Minato-ku Tokyo
Open. 月・木・金・土・日
Time. 13:00—20:00.
Close. 火水
不定休 ※ SNSでご確認下さい。
Instagram. @pottari.tokyo
Mail. pottari.tokyo@gmail.com