人気アーティストのロブ・キドニーによる個展を駒込のZa Galleryにて開催!

ロブ・キドニー 個展
HOUSE OF KIDNEY
2017年8月1日(火)~28日(月)
会 場:Za Gallery(東京都文京区本駒込 2-28-10)
時 間:10:00~20:00 ※最終日 18 時終了
休廊日:第2火曜日
▶︎ オープニングレセプション: 2017年8月1日(火) 17:00~19:30
イラストレーターのロブ・キドニーが描く、やんちゃでキュートな動物キャラクター達が幸せに暮らす HOUSE OF KIDNEY (キドニーの家) を大公開。みんなのハッピーな笑顔を見に、ぜひお立ち寄りください!
本展では、ロブらしい可愛い動物が描かれた半立体作品を中心に新作群を堂々発表いたします。
さらにこの展示の集大成ともいえるべきアートブック「HOUSE OF KIDNEY」も販売いたします。
原画作品と合わせてお楽しみください。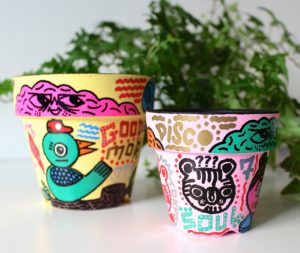 イベント
オープニングレセプション
8月1日(火)  17:00〜19:30
作家が在廊いたします。
◀︎「植木鉢に絵を描くよ!」
8月20日(日) 14:00〜16:00
ロブ・キドニーが自慢のキャラクターの絵をミニ植木鉢に描きます!  ■1鉢 ¥3,000~
PROFILE
Rob Kidney/ロブ・キドニー
1969年英国出身。 音楽やアパレル、雑誌などで活躍するアーティスト/イラストレーター。 鮮やかな色と力強い手描きのラインでインパクトのあるイラストを多数手掛ける。英ダンスユニットBasement JaxxのCDカバーイラストで知られ、CHUBBYGANG、X-girl、unicoなど様々な企業とコラボしている。大人から子供までファン層が広い。
アーティストウェブサイト:robkidney.com
---
※ 会場の都合により祝花・菓子などはご遠慮いただいております。祝花や差し入れに代えて、作品のご購入をお勧めしています。ご購入を通じてアーティストへの励ましやご支援くださいますようご理解お願いいたします。
※ 12歳以下のお子さまをお連れの方は展示物への配慮をお願いします。
---
◆
Rob Kidney, co-owner of WISH LESS gallery has a solo show at Za Gallery in Komagome, Tokyo from 1st August to 28th August.
In this exhibition of new work he will be revisiting some of his classic characters and revealing some new ones.
Alongside new paintings, shape cut characters, painted terra-cotta pots and 3D plush characters, he will be  launching his new book 'HOUSE OF KIDNEY'.
STATEMENT
All my favourite characters have decided to live together, some are old friends and some have just met.
Please drop in to see their happy faces!
PROFILE
Rob Kidney was born in England. He studied illustration at Brighton University. Now based in Tokyo, with a wide global client base mainly in music and fashion. He has developed a reputation for his live painting and customizing abilities. His work is both raw and vibrant, with a strong hand-drawn line and an acid color palette. It always delivers a strong visual punch. During the last 5 years he has focussed on drawing teddy bears and other stuffed toys mainly using a 10B pencil, these drawings focus on the balance between simplicity and innocence, with a touch of mischievousness.
Clients : Chubbygang, X-girl, XL-Recordings, Ozone Rocks, Universal Music, BMG Japan, Shodensha, Victor/Speedstar Records, avex music creative Inc. etc…
Artist website:robkidney.com
---
ロブ・キドニー 個展「ハウス・オブ・キドニー」
会 期:2017年8月1日(火)~28日(月)  最終日18時終了
時 間:10:00-20:00/第2火曜日 休廊
会 場:Za Gallery
住 所 : 〒113-0021 東京都文京区本駒込 2-28-10 文京グリーンコート内
電 話 : 03-3946-5390
ウェブ:www.bunkyo-greencourt.com/gallery
Rob Kidney solo exhibition 'HOUSE OF KIDNEY'
Period : Tuesday August 1st – Monday August 28th 2017
※ The gallery will close at 6pm on the last day.
Opening hours : 10:00-20:00
Closed : 2nd Tuesday of August
Address : Za Gallery 2-28-10 Honkomagome Bunkyo-ku Tokyo
Tel : +81-3-3946-5390
Web:www.bunkyo-greencourt.com/gallery
---