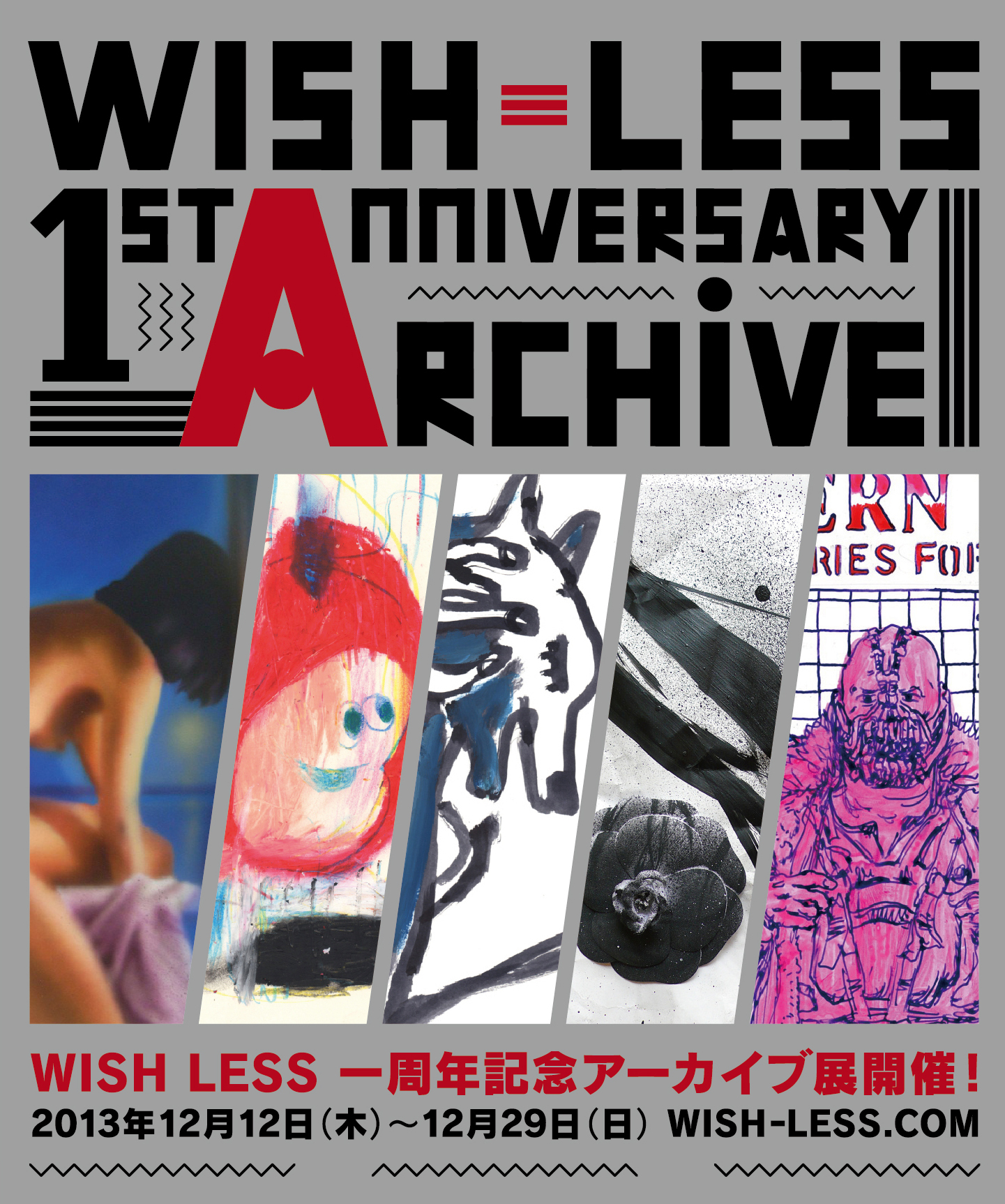 営業時間:月〜水 アポイント制/木・金 17:00〜21:30/土・日 12:00〜19:00
会場:WISH LESS ※ 最終日18時終了
WISH LESS galleryは、2012年12月に東京・田端にオープンして以来、個性溢れるユニークなアーティストたちの
展示会を行ってきました。
開廊1周年を迎えるにあたって、これまでに展示した作品を厳選して公開いたします。
もう一度じっくりあの作品と向き合いたい、または見逃してしまった!という方、ぜひこの機会をお見逃しなく!
もちろん最新作もご紹介いたします。
大切な方への贈り物として愛のこもった素敵なアートをプレゼントしてみませんか?
作家一覧:REQ、SHEONE、Gary Goodman、Rob Kidney、Jon Chandler、Yuka Nemoto、Hayato Kiyuna、Karen Constance、
Bambi Goodman、Decadence Comics、Famicon Express、takako(ヒライタカコ)  etc

WISH LESSオリジナルプロダクトなど店内商品が半額セールを行います。(アート作品は含まれませんのでご了承ください)
期間中、1,000円(税込)以上お買い上げいただいたお客さまにスペシャルギフトをプレゼントを差しあげます。プレゼントは無くなり次第終了とさせていただきます。
◆
WISH LESS   1st Anniversary  

ARCHIVE exhibition
Thursday December 12th – Sunday 29th  2013
Mon – Wed by appointment only / Thurs + Fri 17:00〜21:30 / Sat + Sun 12:00〜19:00
※We will close at 6pm on the last day Dec 29th Sunday.
It has been one year since we launched WISH LESS gallery/shop/studio.
We have been truly privileged to show the work of artists who we respect and admire.
This December at our new and improved bigger space in Tokyo we are going to celebrate the last twelve months by opening the 'WISH LESS ARCHIVE'
It seems only fitting for our first anniversary to show a selection of our favourite pieces by the artists who have graced the WISH LESS walls since we opened and given our gallery an identity that we are genuinely proud of.
Come along this December to enjoy the work of over 10 artists.
We will also be holding special events and promotions over this period,information will be posted on the WISH LESS homepage and Facebook.

   ※ Selected items
If you spend over ¥ 1,000 you will receive a SPECIAL ANNIVERSARY GIFT!!!!